Royal Orchid Sheraton Hotel & Towers (UP TO 70% OFF)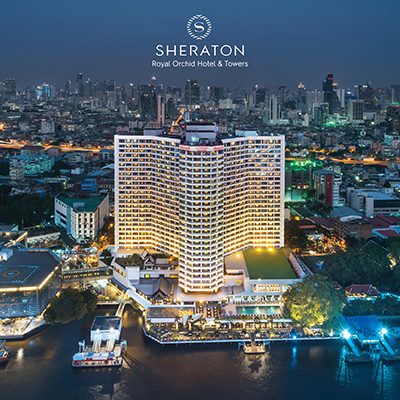 Venue Details
Royal Orchid Sheraton Hotel & Towers (TH)
2 Charoen Krung Road Soi 30 (Captain Bush Lane)
Bangrak, Bangkok, 10500
Royal Orchid Sheraton Hotel & Towers (UP TO 70% OFF)
Relax and get pampered by the Chao Praya River at Royal Orchid Sheraton Hotel & Towers. Make the most of your riverside stay, when you buy our exclusive vouchers, valid on accommodation and food & beverage.
For limited time only.
Packages are consisting of:
-THB 3,000 voucher for a total value of THB 4,500
-THB 5,000 voucher for a total value of THB 8,000
-THB 10,000 voucher for a total value of THB 17,000
Sell Dates: Today – 15 December 2021
Validity Date: 2 September 2020 – 15 December 2021 
For more information or advanced reservation, please contact: Tel. +6622660123 or email res172.RoyalOrchid@sheraton.com
Terms & Conditions:
Accommodation:
• Valid on direct bookings made via Marriott.com or by contacting the hotel reservations. 
• Valid for a reservation made under Standard Rates (Best Flexible Rate), including Member Rate and Regular Rate either room with breakfast or room only rate
• Voucher cannot be combined with any special offers such as prepaid rates, promotional rates, or any special discount. 
• No rate restrictions apply, but normal booking processes including credit card guarantee and deposit at check-in are mandatory.
• Cash Voucher to be used per stay and cannot be split for future stays.
Food & Beverage:
•    Vouchers may be used in all outlets through the hotel, but do not include bookings made via any third parties
•    Vouchers may not be redeemed in conjunction with others discounts programs
•    Reservations are subject to availability
•    Vouchers cannot be redeemed for any events, group bookings, weddings and group bookings (10 and more).
General:
•    Vouchers may only be used once, cannot be split and are valid on all managed facilities only 
•    Voucher credit will be applied to Guest folio at time of checkout 
•    Blackout date applies on 19 November 2021
•    Voucher credit is not transferable, not redeemable for cash, void after checkout and cannot be applied toward future stays
•    A stay is defined as consecutive nights spent in the same hotel, regardless of check in/check out activities. Check out and check in cannot be on the same day
•    Marriott Bonvoy members are able to earn points based on the purchase price of the vouchers, rather than the redemption value. Also, vouchers cannot be redeemed for discounted products or services through Marriott Bonvoy, Club Marriott or any other promotions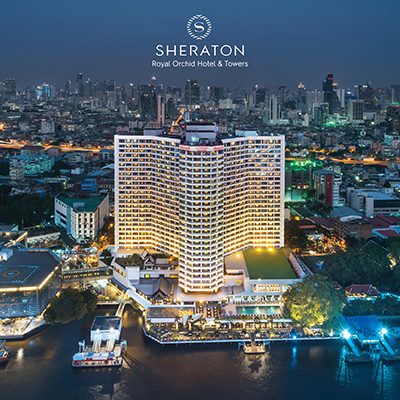 Venue Details
Royal Orchid Sheraton Hotel & Towers (TH)
2 Charoen Krung Road Soi 30 (Captain Bush Lane)
Bangrak, Bangkok, 10500