Renaissance Koh Samui Resort & Spa (UP TO 70% OFF)
Rewarding Voucher of THB 4,500 value
Pay only THB 3,000 and get THB 4,500 value
Rewarding Voucher of THB 8,000 value
Pay only for THB 5,000 and get THB 8,000 value
Rewarding Voucher of THB 17,000 value
Pay only for THB 10,000 and get THB 17,000 value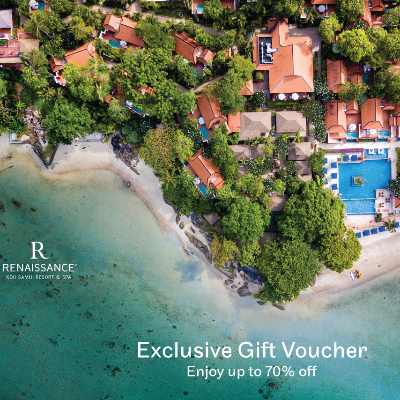 Venue Details
Renaissance Koh Samui Resort & Spa (TH)
208/1 Moo 4 Tambol Maret
Koh Samui, Suratthani, 84310
Renaissance Koh Samui Resort & Spa (UP TO 70% OFF)
Relax in a beachfront resort where five-star service and opulent amenities abound at Renaissance Koh Samui Resort & Spa.
Set amidst manicured gardens and tucked along the shores of Koh Samui island, our boutique hotel ensures a tranquil visit. Our prime location is only steps away from popular Lamai Beach, Chaweng Beach and Fisherman's Village.
Are you seaching for the perfect gift for yourself or your loved one? Renaissance Koh Samui's voucher can be redeemed for accommodation in a beachfront boutique 5 stars resort, dining and spa treatments.
Voucher options are available for limited time only, get bonus up to 70% when buy this exclusive gift voucher : 
-Buy THB 3,000 voucher for a total value of THB 4,500
-Buy THB 5,000 voucher for a total value of THB 8,000
-Buy THB 10,000 voucher for a total value of THB 17,000
Sell Dates: Today – 30 June 2021
Validity Date: 2 September 2020 – 30 June 2021

For more information or advanced reservation, please contact:  +66 2 656 8778 , +66 77 429 300  or email bookrenaissancesamui@marriottservice.com; kanittha.k@renaissancehotels.com
Terms and Conditions
- The usage of gift certificates can be used for all managed facilities within a hotel : accommodation, spa, bar and restaurants 
- Gift voucher is applicable for room accommodation book through Marriott.com or direct booking to the Reservation
- Gift voucher can be used only for accommodation on Standard rate on Marriott.com or directly with the hotel. It is not Applicable with pre-paid rate or any discounted rate. 
- Bonvoy Points can be earned when book accommodation with eligible rate plan
- Credit voucher is not combinable with any other promotions and offers
- Credit need to be used per stay can not be split for future stay
- Credit will be applied to Guest folio at time of checkout 
- Credit are not transferable, not redeemable for cash, void after checkout and cannot be applied toward future stays. 
- A stay is defined as consecutive nights spent in the same hotel, regardless of check in/check out activities. Check out and check in can not be on the same day.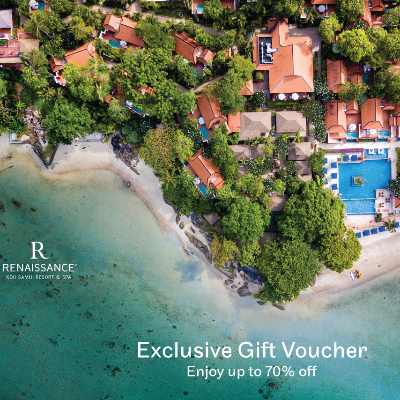 Venue Details
Renaissance Koh Samui Resort & Spa (TH)
208/1 Moo 4 Tambol Maret
Koh Samui, Suratthani, 84310