Le Méridien Khao Lak Resort & Spa (UP TO 70% OFF)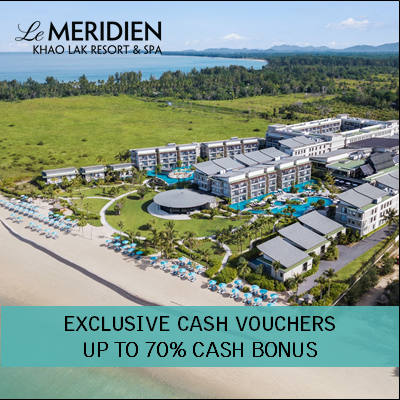 Venue Details
Le Méridien Khao Lak Resort & Spa (TH)
31 Moo 7
Takuapa District, Phang Nga, 82190
Le Méridien Khao Lak Resort & Spa (UP TO 70% OFF)
Le Méridien Khao Lak Resort & Spa sits on the stunning white sands of Bangsak Beach in Khao Lak, Thailand, north of Phuket International Airport.
Our luxury hotel, ideal for couples, families and meeting planners alike, features a secluded location and panoramic ocean vistas. Hotel guests can choose from 10 types of rooms, suites and villas with spacious balconies overlooking our resort pool and the breathtaking Khao Lak coast.
For limited time only, get up to 70% bonus when you buy this exclusive gift voucher. 
Packages are consisting of:
- THB 3,000 voucher for a total value of THB 4,500
- THB 5,000 voucher for a total value of THB 8,000
Sell Dates: Today – 15 December 2021
Validity Date: Today – 15 December 2021 2021

For more information, please contact LMKhaolak@lemeridienhotels.com or call +66 (0) 76 429 000
Terms & Conditions:
- This voucher cannot be used with Rao-tiew-duay-kan campaign on accommodations. However, guest may use this cash voucher for foods and beverages after Rao-tiew-duay-kan discount.
- Gift vouchers can be redeemed for accommodation (booked via Marriott.com, applicable with Flexible Rate with Breakfast only), spa treatments, food and beverage in any of our on-site managed restaurants and bars including in-room dining. . 
- Blackout date applies on 23 October 2021
- Gift vouchers cannot be used for transportation, limousine, excursions, mini-bar and activities.
- Gift Vouchers are to be purchased prior to arrival, and are non-refundable.
- Gift Vouchers must be used during one stay and cannot be carried forward for future use or redeemable as cash.
- Any spend that exceeds the amount of the gift certificate, the balance must be paid upon check out either in cash, credit card or other available payment method.
- Gift Vouchers cannot be used in conjunction with any other promotion or discounts, vouchers or special events. If in doubt, please contact the hotel for clarification. 
- Gift Vouchers will be applied to the guest-folio at the time of check-out or bill settlement. 
- Marriott Bonvoy members are able to earn points based on the purchase price of the vouchers, rather than the redemption value. Also, vouchers cannot be redeemed for discounted products or services through Marriott Bonvoy, Club Marriott or any other promotions. 
- Gift Vouchers are not transferable, cannot be exchanged for cash and are void after check-out. 
- Gift Vouchers are not applicable for group bookings (10 or more rooms).
- Gift Vouchers are not applicable for catering spend (wedding, meeting etc.)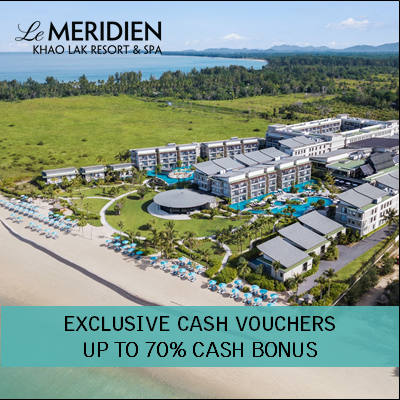 Venue Details
Le Méridien Khao Lak Resort & Spa (TH)
31 Moo 7
Takuapa District, Phang Nga, 82190