Le Meridien Bangkok - 2022 Campaign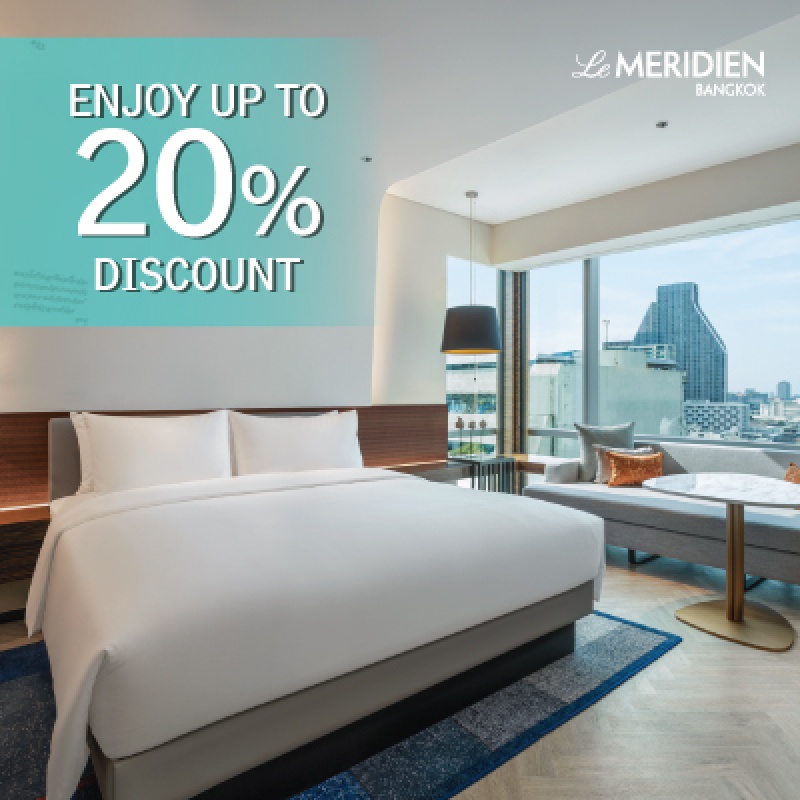 Venue Details
Le Méridien Bangkok (TH)
Le Méridien Bangkok
40/5 Surawong Road, Bangrak, Bangkok, 10500
Le Meridien Bangkok - 2022 Campaign
Excite your senses with a stimulating stay at Le Méridien Bangkok, an award-winning, art-inspired, 5 star hotel in Bangkok. In the beating heart of Bangkok, discover newly renovated guest rooms, spa and a reconceptualised restaurants and bars.
Experience our newest venue "Rolling Ribs Brew Bar & BBQ", offering Memphis style smokehouse grill menus accompanied with tasty salads and original beverages. All offered with special savings. Act now while the offers are hot!

Limited time only! Le Méridien Bangkok offers exclusive gift vouchers with up to 20% bonus value. The voucher can be applied for accommodation, Food + Beverage in all restaurants and bars or a spa treatment at SPA by Le Méridien. 
Cash Voucher Selections are consisting of:
- Pay at THB3,000 net for a cash voucher value at THB 3,300 net
- Pay at THB10,000 net for a cash voucher value at THB12,000 net
Sales Period                   :  Now until June 30, 2022
Voucher Validity            :  Now until June 30, 2022 
_____________________________________________________________________________________________________________________________________
โรงแรมเลอ เมอริเดียน กรุงเทพ พร้อมเปิดตัวในรูปแบบใหม่ที่จะทำให้ทุกท่านประทับใจไม่รู้จบ ภายใต้การตกแต่งใหม่ทั้งหมด เปลี่ยนบรรยากาศพักผ่อนง่ายๆในใจกลางกรุงเทพ ด้วยห้องพักในดีไซน์ใหม่ที่นำความเป็นไทยผสมผสานกับศิลปะแบบยุโรปยุคกลางได้อย่างลงตัว รวมถึงห้องอาหารและบาร์ที่ได้รับการปรับโฉมให้มีระดับไม่ซ้ำใคร ‎ลิ้มรสห้องอาหารใหม่ Rolling Ribs Brew Bar & BBQ กับต้นตำรับ "ซี่โครงหมูบาร์บิคิว" และเมนูรมควันฉบับเมืองเมมฟิส ประเทศสหรัฐอเมริกาอันโด่งดัง รสเข้ม เต็มเครื่อง ทานคู่กับเครื่องดื่มซิกเนเจอร์มากมาย
ข้อเสนอพิเศษ! บัตรของขวัญสุดคุ้มกับส่วนลดสูงสุดถึง 20% สามารถใช้ได้กับห้องพัก บริการสปา ห้องอาหารและบาร์ภายในโรงแรมเลอ เมอริเดียน กรุงเทพ
-    จ่ายเพียง 3,000 บาทสุทธิ รับบัตรของขวํญมูลค่า 3,300 บาทสุทธิ 
-    จ่ายเพียง 10,000 บาทสุทธิ รับบัตรของขวํญมูลค่า 12,000 บาทสุทธิ 
สามารถซื้อและใช้บริการได้ตั้งแต่ วันนี้ – 30 มิถุนายน 2565
For more information or advanced reservation, please call +66 2 232 8888 or email: Reservations.LMBKK@lemeridien.com  Visit our website www.lemeridienbangkoksurawong.com
Terms and Conditions 
- Gift vouchers can be redeemed for accommodation (booked via Marriott.com, applicable for Standard Rate - Member Rate Flexible or Flexible Rate only), spa treatments, food and beverage in any of our on-site managed restaurants and bars including in-room dining. 
- Gift vouchers cannot be used for Test & Go package or other quarantine packages.
- Gift vouchers cannot be used for transportation, limousine, excursions, mini-bar and activities.
- Gift Vouchers are to be purchased prior to arrival, and are non-refundable.
- Gift Vouchers must be used during one stay and cannot be carried forward for future use or redeemable as cash.
- Any spend that exceeds the amount of the gift certificate, the balance must be paid upon check out either in cash, credit card or other available payment method.
- Gift Vouchers cannot be used in conjunction with any other promotion or discounts, vouchers or special events. If in doubt, please contact the hotel for clarification. 
- Gift Vouchers will be applied to the guest-folio at the time of check-out or bill settlement. 
- Marriott Bonvoy members are able to earn points at the value of the purchased vouchers or accordingly to the folio at the time of check out, however, the vouchers cannot be used in conjunction with Marriott Bonvoy, Club Marriott etc. F&B benefits (discount %)
- Gift Vouchers are not transferable, cannot be exchanged for cash and are void after check-out. 
- Gift Vouchers are not applicable for group bookings (10 or more rooms).
- Gift Vouchers are not applicable for catering spend (wedding, meeting etc.)
- Marriott Bonvoy members are able to earn points based on the purchase price of the vouchers, rather than the redemption value. Also, vouchers cannot be redeemed for discounted products or services through Marriott Bonvoy, Club Marriott or any other promotions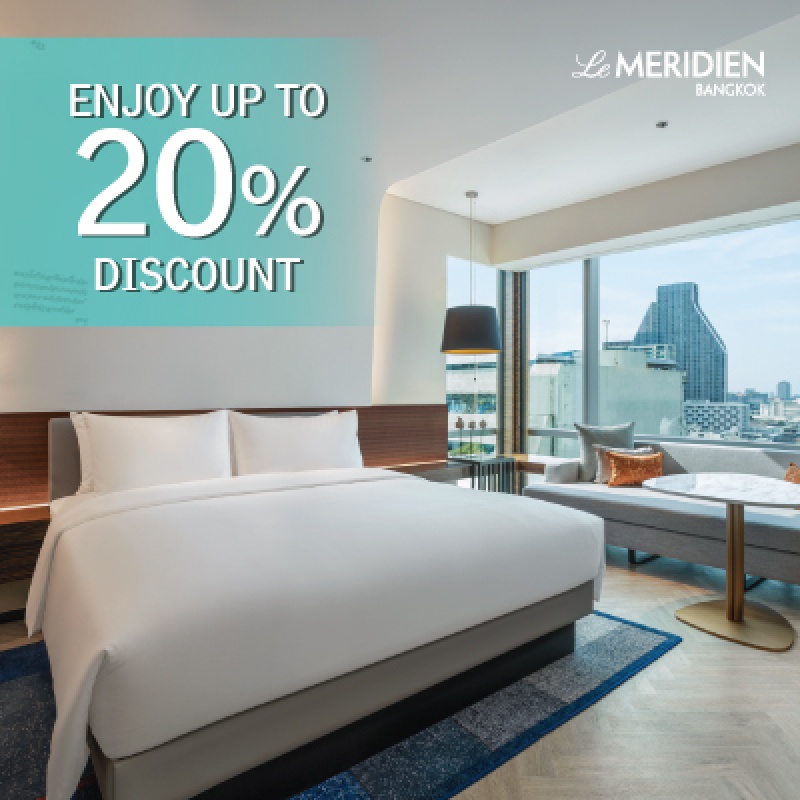 Venue Details
Le Méridien Bangkok (TH)
Le Méridien Bangkok
40/5 Surawong Road, Bangrak, Bangkok, 10500